Bake #5 | Mini Pear Pies
In case you're not up to speed, this is the fifth bake in The Great Blogger Bake Along series. Read about it here.
Finally. The one I was most excited for! They looked so delectable and flavorful and fun to make, that I was just counting down the days until I got to make these. It did not disappoint in terms of 'fun to make,' but it did disappoint in other ways... hmmm read on...
The Challenge
Make mini pear pies with a homemade rough puff pastry, and poached pears. Make sure the puff pastry doesn't slide down the pears and the pears aren't over-poached making them too soft to hold the pastry.
The Outcome
Guys... this was such a disappointment!!! So the puff pastry called for lard and butter and flour. Has to be good, right?! It was AWFUL! All I could taste was the lard and without any salt, it was just bland. The pears were poached in a water, white wine, sugar, cinnamon sticks, and orange zest mixture on the stove. After that, it's wrapped in the pastry and baked, so it has to turned out all caramelized and pie-like, right? Nope again! For such a yummy poaching mixture, they still came out almost flavorless and completely disappointing.
Would either of us make this again?
I would make it again, only with some serious adjustments. It was a genuinely beautiful dessert and I loved the process of making it, but the overall taste wasn't what I had hoped for. I let my mom do her puff pastry differently, and I think hers turned out better, so again, with those adjustments, it would be well worth it to make this again. It needs a little more sugar and salt to bring out the flavor, and I know they'd be amazing with those additions.
Here's the glamour shots...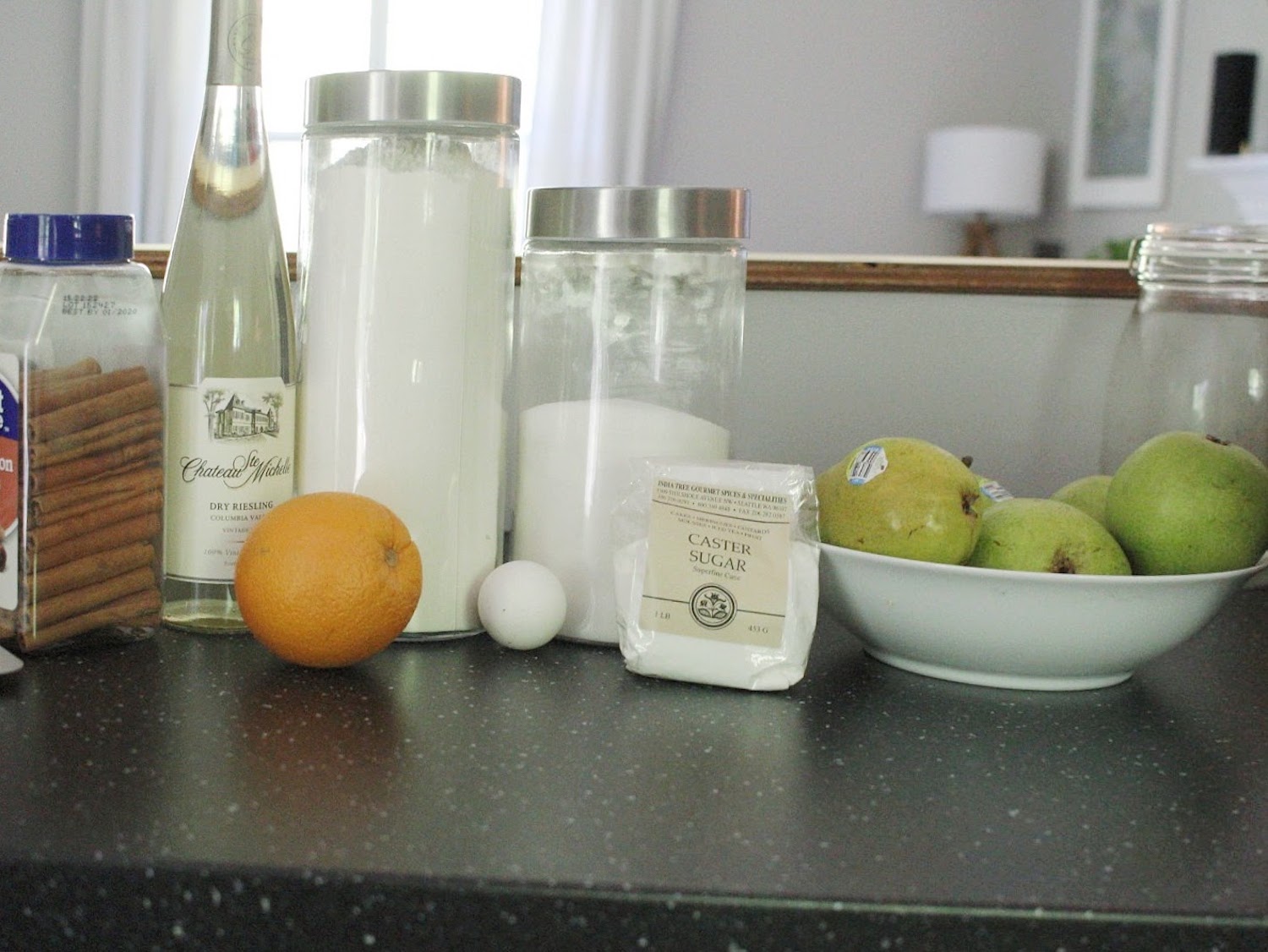 Here's my mom's report
This challenge turned out pretty well. Mostly because Joy made hers well in advance of mine and I learned from her and was given permission to change it up a bit. Having returned on Tuesday from a trip it was a late night finishing up in time for posting.
Here is my review:
The recipe called for butter and lard. Joy made hers according to those directions and was very unhappy with the flavor of the puff pastry. We both felt a proper puff pastry would NOT include lard. Therefore when I made mine I used only butter. I think it turned out very well. It's time consuming, but worth the effort. The rest of the preparation went very well. The end result was pretty good. It called for firm pears and apparently mine were too firm because I was unable to eat them with a spoon, I needed to slice the pears. In my opinion a poached fruit should be very soft, but I suppose they need to be somewhat firm in order to wrap them easily with the puff pastry. Somewhere in the middle is where they need to be. My picture shows how I think they should be served. The thickened sugar mixture made a tasty, and pretty glaze over the pear. All of these challenges look impressive, but not all of them taste that amazing. This one was one I would serve if I could be sure the fruit would be soft.
Again, if you're looking for a genuinely fun little challenge, give the pies a try. They are so pretty, and with the adjustments are genuinely yummy, and unique way to have pie. Don't forget to use the hashtag #JoyLynnBakeAlong and join along on this super fun challenge. Coming up next...
Wednesday, May 17th
Bake #6: Prinsesstarta (Princess Cake)