Savannah, GA
If you caught my last post, I just turned twenty-seven. Since I'm not much for 'things,' Tom took me to Savannah, Georgia for a (way too fast) overnight getaway. Almost two years ago, we stopped in Savannah for no more than a couple of hours for lunch on our way to Hilton Head, SC, and we've been eager to return ever since. Needless to say, it did not disappoint. Savannah is incredibly charming, slow-moving, artistic, and historical. The food is wonderful and unique, and the streets are lined with old, looming trees, dripping in beautiful Spanish moss. I would highly suggest good walking shoes - wedges and heels won't go over so well on the stone and cobblestone streets of certain areas! And it really is a very walkable city, so shoe comfort goes a long way in the longevity of your day's adventures.
Since we were only there a Friday afternoon through Saturday afternoon, we mostly focused on exploring, catching the sites, and diving into the culture. I'll list off the places we visited (both pictured and not) just to give you an idea of Savannah life.
These first photos document Friday afternoon upon arrival. Some areas have updated parking where you pay at an electronic meter, but have a little loose change on hand, because some areas still use coin operated meters.
Lunch at Gryphon Tea Room. This place not only had that elegant feel of a southern tea room set in a historical building with a delicate menu, but some of the employees were students at SCAD (Savannah College of Art and Design). If requested, they'll give you the interesting history of the building and decor, and explain the arrangement SCAD has with Gryphon.
Next we moseyed around E. Shaver, Bookseller, kitty-corner to Gryphon, where we found the kind of books that you picture being in fictitious libraries. Like in the Beast's from Beauty and the Beast, or at Hogwarts. The familiar sorts of books along side the books that leave you wide-eyed and speechless.
We continued to take a slow walk around the city squares, admiring the beautiful buildings and architecture, until we decided to head up to our lodging for the night. Side note: SCAD is a well known art school and the whole weekend we realized why Savannah made such a fitting backdrop for a school of that sort. The old, mixed with new, mixed with people, textures, and rich culture must be ideal for practicing the arts.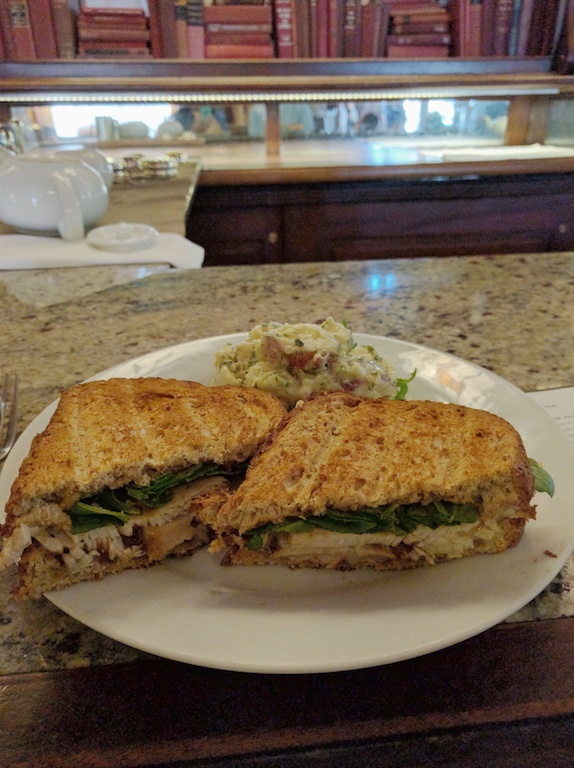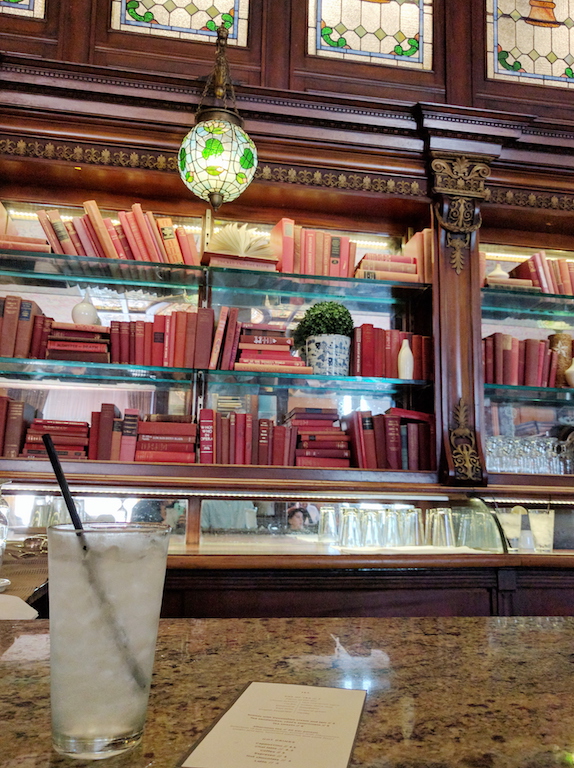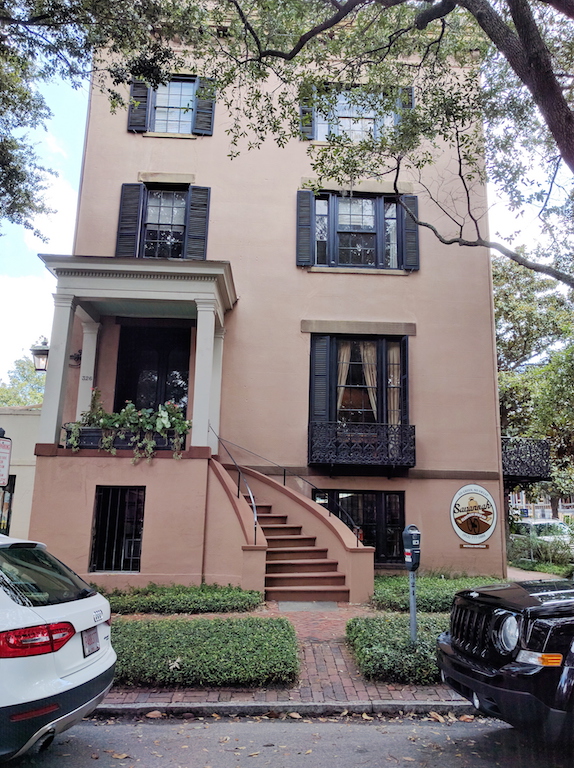 We arrived at our Airbnb midday and promptly took a short power nap. Since we've become more avid in our use of Airbnb, we have started staying in shared spaces (versus an entire home). Here's the bedroom we rented in a house equidistant to Savannah and Tybee Island. It was a charming, clean home and those extra touches (like the complimentary bottle of wine) really make an Airbnb memorable and fun. Also memorable, is when one of the other guests walks in on you in the bathroom.. (haha it was a second after I had walked in, and was funny, not bad). Also, here's $35 off your first booking with Airbnb
For the rest of the evening, we hit the beach on Tybee Island and talked while looking over the Atlantic and picking up a few shells. It was so relaxing, and the people watching was great. I mean come on, what else can beat the smell of the ocean and sand between your toes?
We grabbed dinner at Tybee Island Social Club, and minus the fact that they seemed to be out of an awful lot of things, it was pretty good. Though, running out of Corona that close to the ocean is a pretty major faux pas in my book...
After dinner, we dropped by a grocery store so I could pick out a birthday dessert because shockingly, all the bakeries on the island and in Savannah closed at 4 or 6 pm! We got back to the room around 8:30 and spent the rest of the night sipping our wine and listening to the conversations of the other guests through the paper thin walls (haha jokes jokes).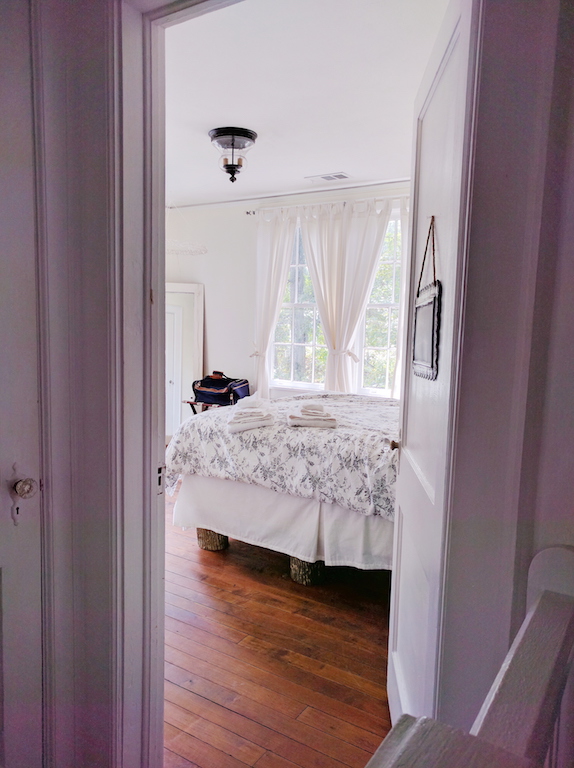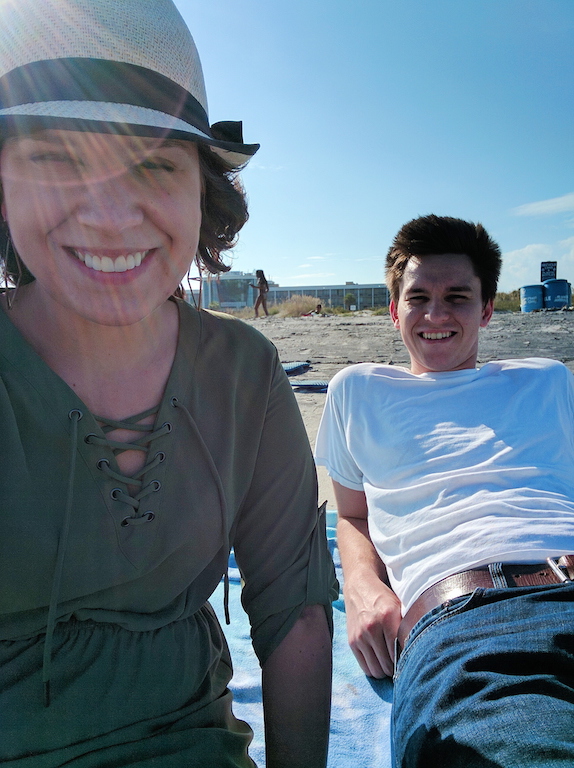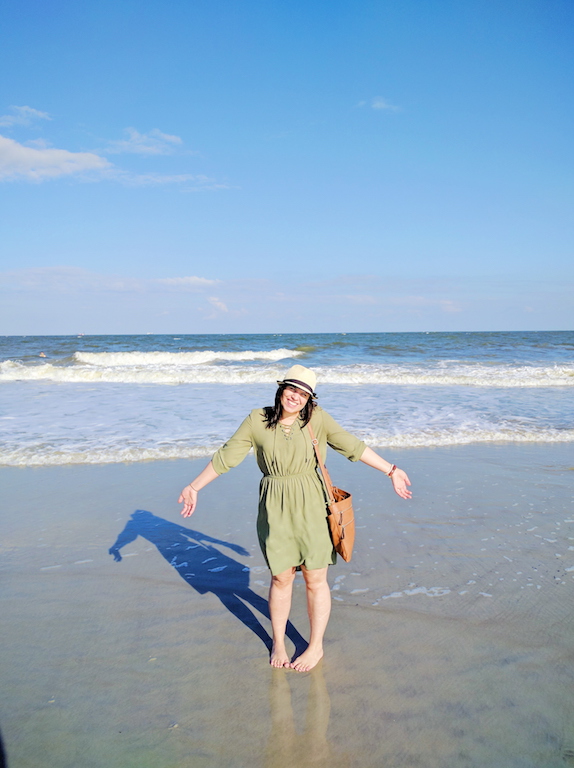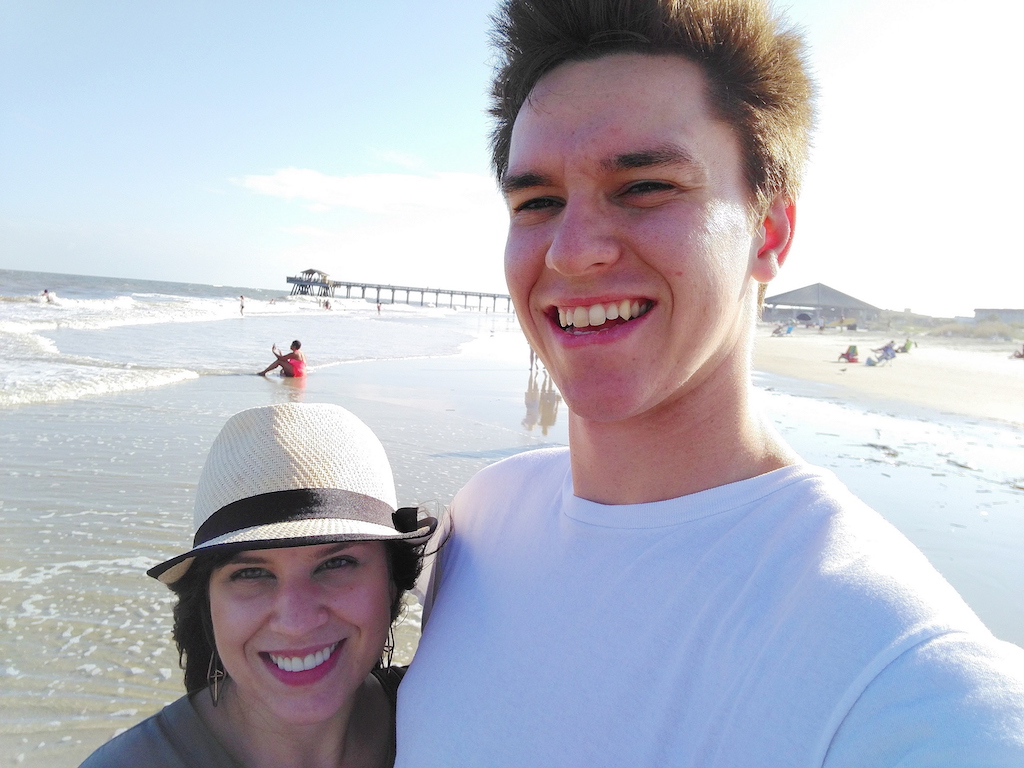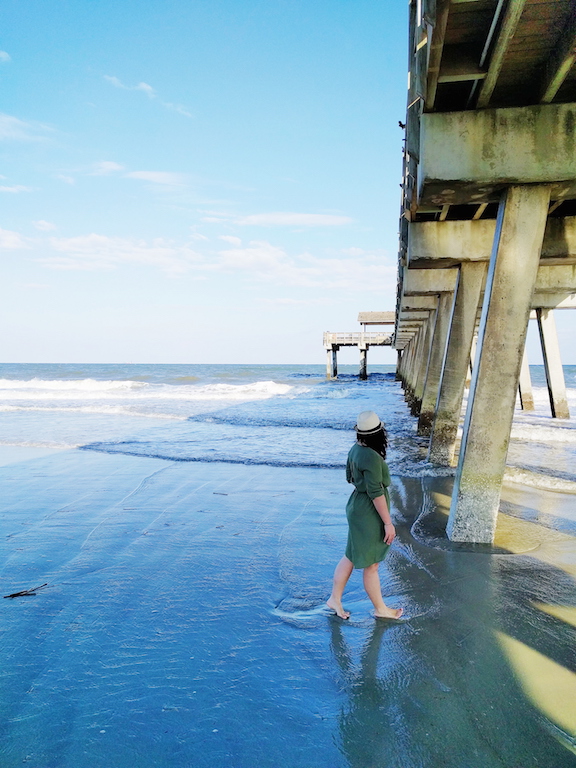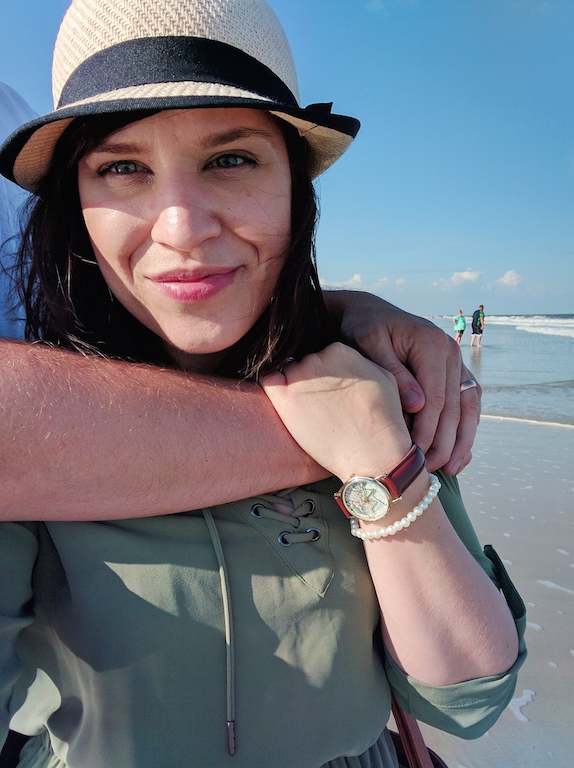 Saturday morning was a little slow moving, but we had had one of those sleeps where you don't move once the whole night, so we were refreshed at least. However, we waited to get coffee at a coffee shop in Savannah, so it wasn't until 10am that we got to one (and there are many, thank goodness). My, were we a sight to behold. I am not exaggerating when I tell you we could hardly get a sentence out (take a look at my BRF as I wait for our coffee in the first pic). We made some friends while we all laughed at our obvious inability to function and we were so, soooo happy with our coffee shop choice. We chose Perc, because based on their reviews, they were a bit on the "coffee snob" or connoisseur side of things and we like that. They did not disappoint. We ordered a Chemex of their lighter roast (because, more caffeine) and for the first time in ages, drank an amazing cup of straight black coffee. Having lived in Milwaukee, surrounded by roasteries in every neighborhood, living in Atlanta's suburbs with nothing but Dunkin Donuts and Starbucks is really first-world-hard. We miss craft coffee. So we split a big Chemex, and promptly ordered up a couple lattes as well. And for the life of me, I forgot to take a photo of the incredible donuts they have brought in by a local baker called Asquad. And I mean incredible in the far reaches of the word. Like, out of this world, guys... so good. Sorry this paragraph was so wordy, but honestly, when it comes to coffee, we don't mess around - sorry not sorry.
After we had been jolted awake (bless, you Perc, bless you), we hit the streets for some shop browsing and adventuring. Next door we found this incredible reclaimed wood warehouse that Joanna Gaines would just go crazy for, called Southern Pine Co.
We also came upon Johnson Square, which lent itself to a few photo ops, of course.
Let me also emphasize that the south is humid. Like, ghastly humid to the point of permanently sticky appendages, so take note of every long-ish haired person's living nightmare: HAIR STICKING TO NECK ... GAHHHHH!!! THE WORST
We also took a stroll by the river, where there are plenty of touristy shops and art galleries. Though, I'm more interested in the history surrounding these riverside buildings, and watching the tug boats toot around. The Savannah Bee Company was worth a few taste tests (and air conditioning break).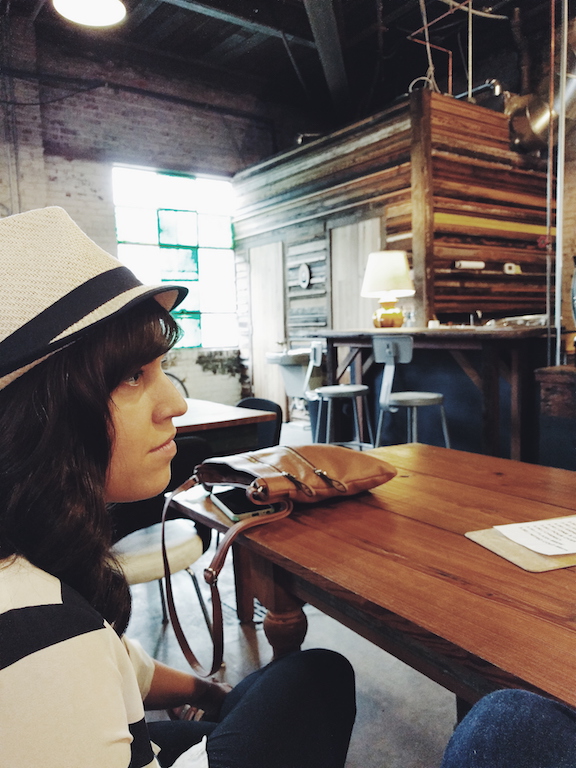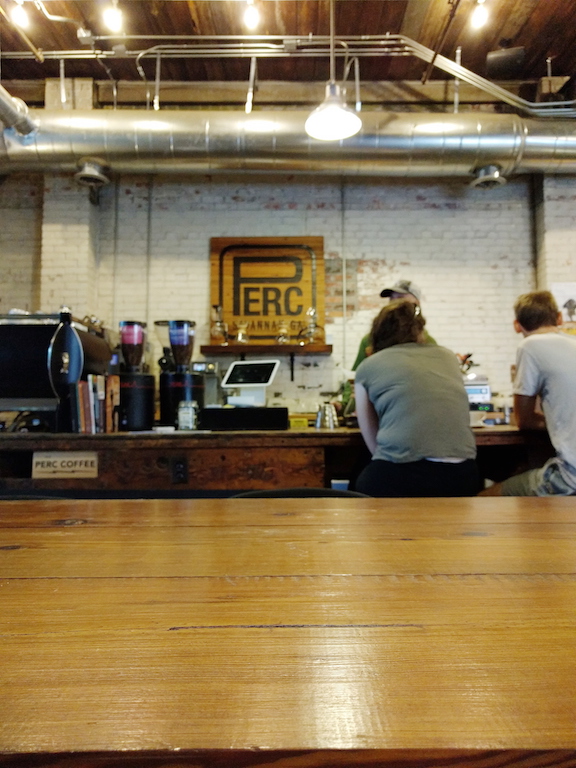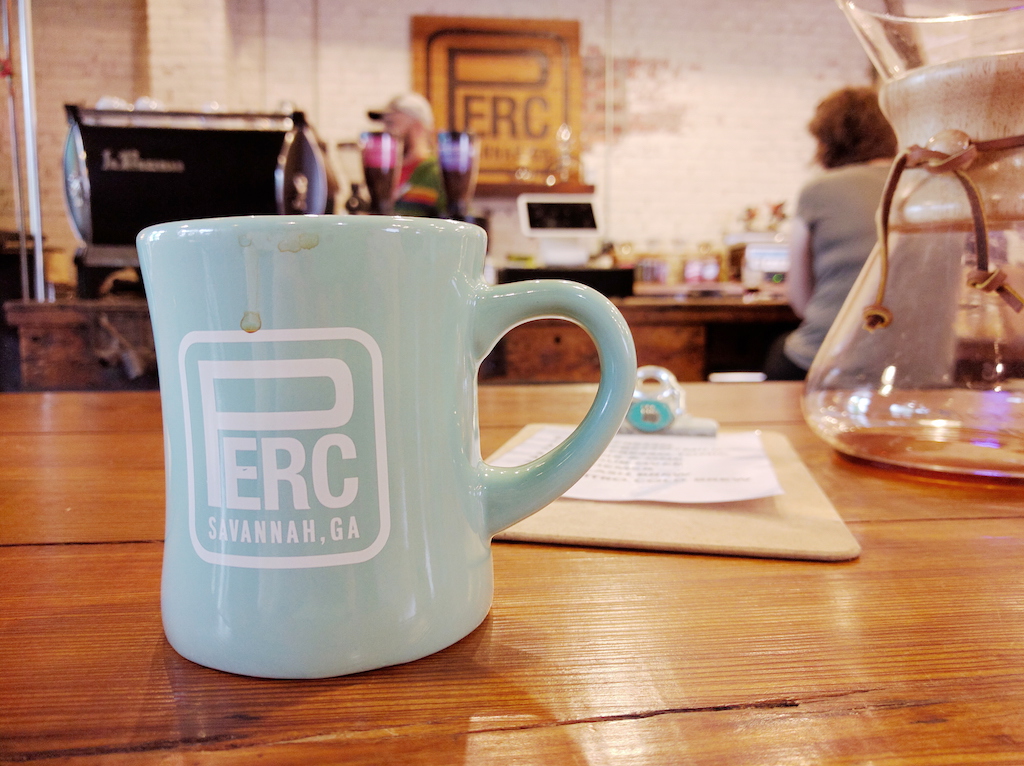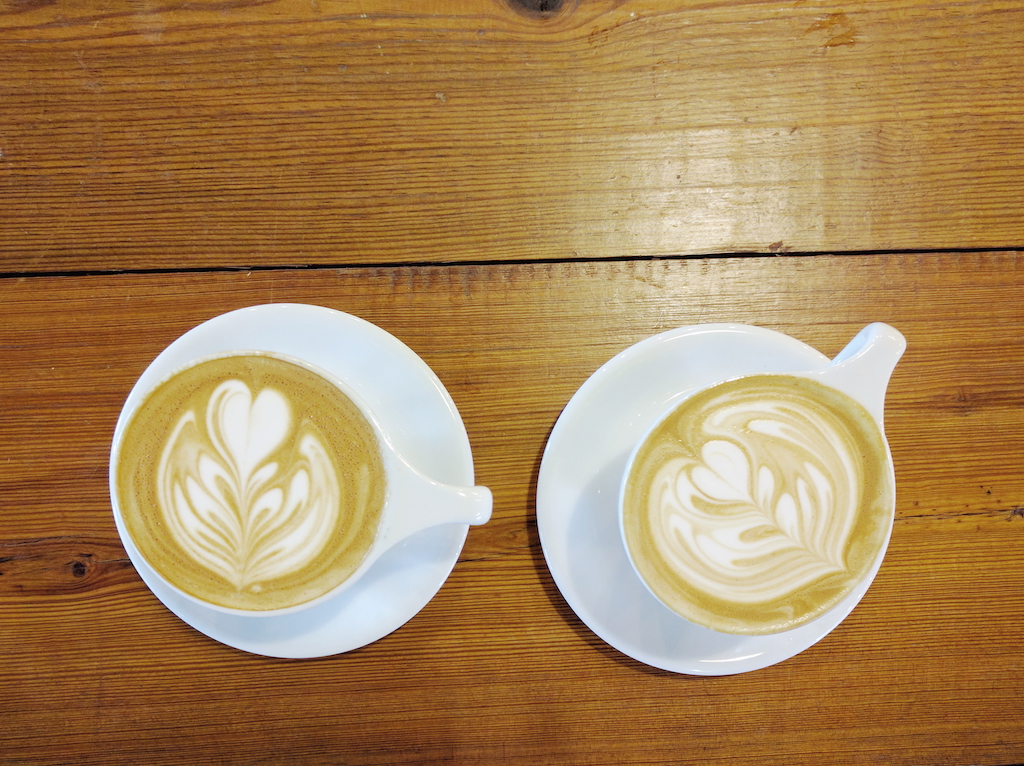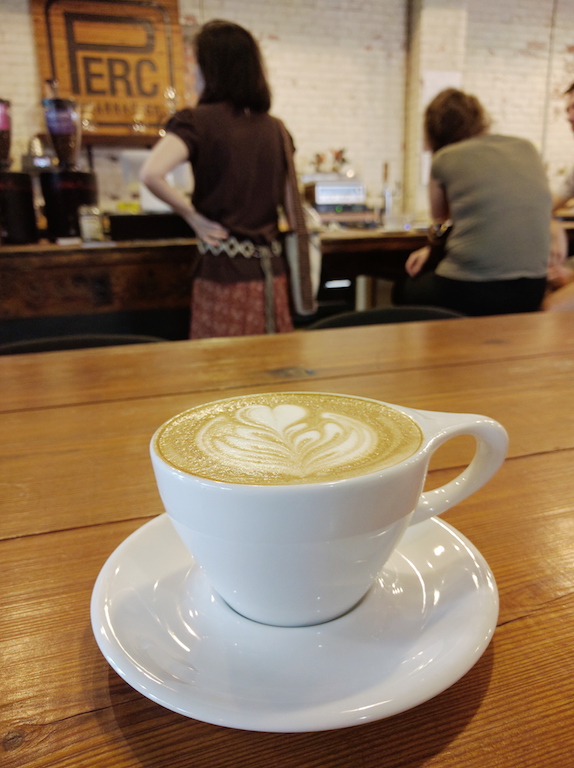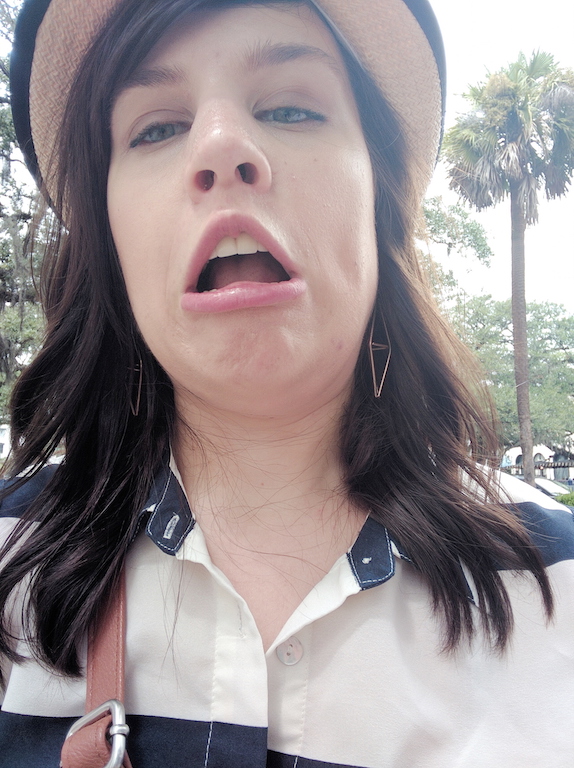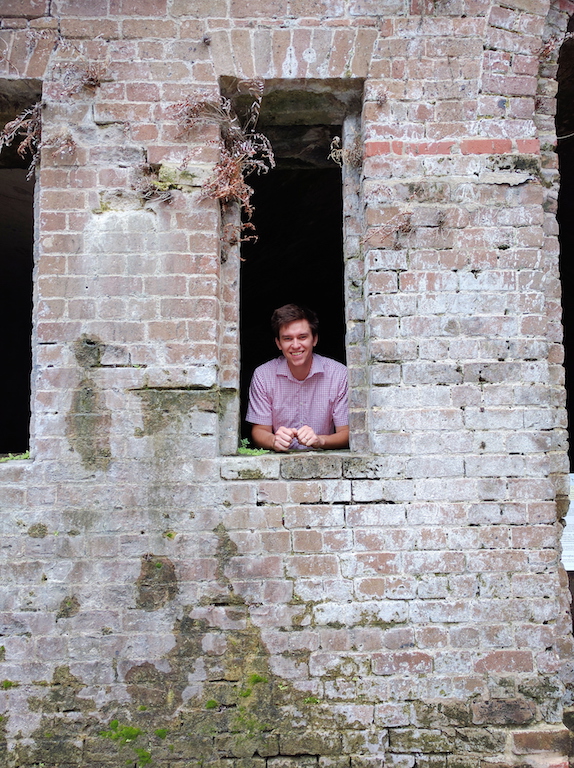 Back towards the middle of town, we visited my favorite store: The Paris Market. We had stopped there two years before, and their unique products and artisanal goods are so fun to look at. As you can see, the coffee had really kicked in and we were having a lot of fun there.
For lunch, we went to Leopold's Ice Cream, which had been recommended to me, and was a clear local favorite. Somehow, we had beat the crowd and ordered both lunch and dessert with hardly a wait at all. Tom had chicken salad and I had a BLT (along with old fashioned fountain drinks), but really, the main event here is the ice cream. A sundae for Tom, and a scoop of Honey Almond Cream for me. Yeah, uhh, never pass up Leopold's if you go to Savannah.
Down the block, we found a Blick Art Store and Tom was excited to find a piece of foamcore in his size. We thought we might do life-sized portraits of ourselves for the house. Eh? Eh?
After a little rest at Forsyth Park while watching a rugby match, our trip came to a close. And also because my hair sticking to my neck was getting out of hand.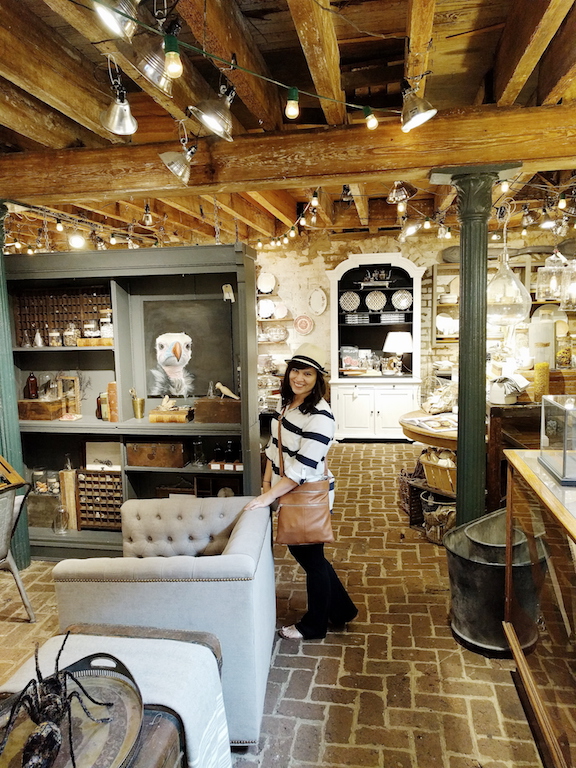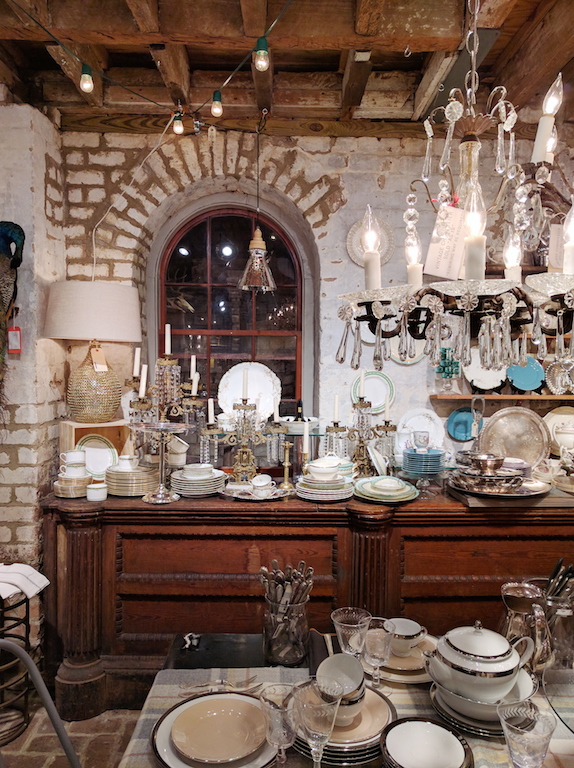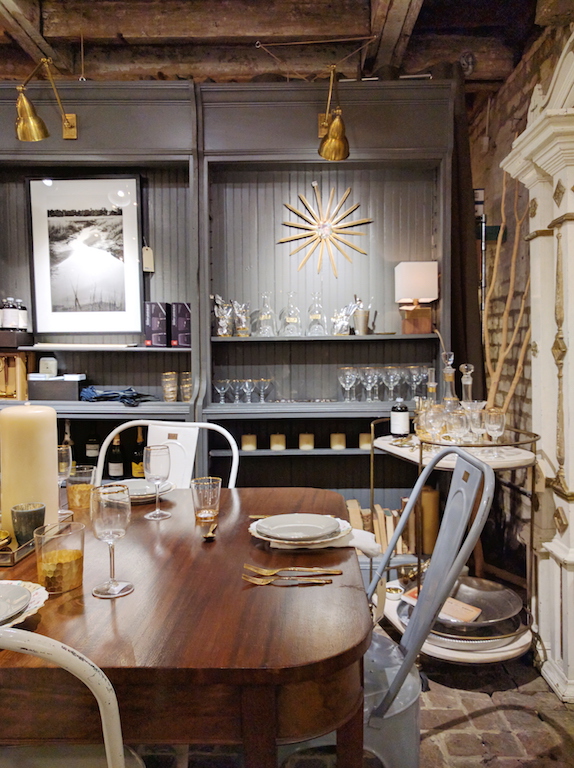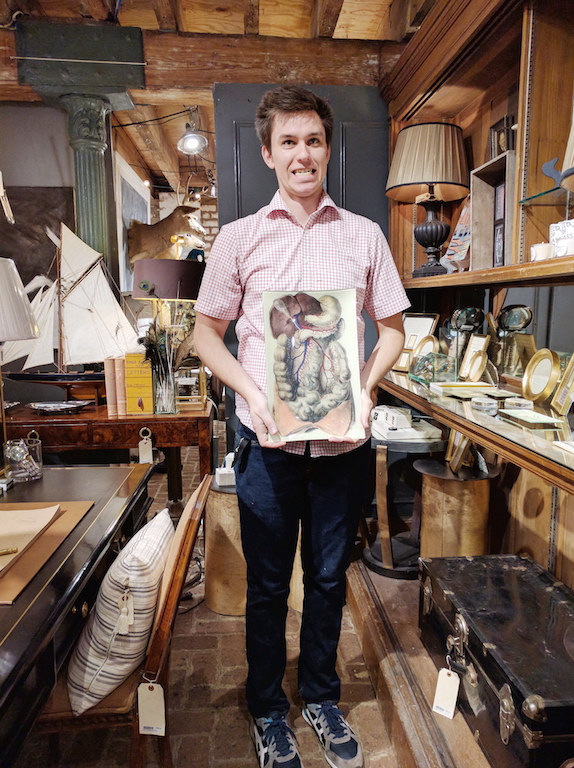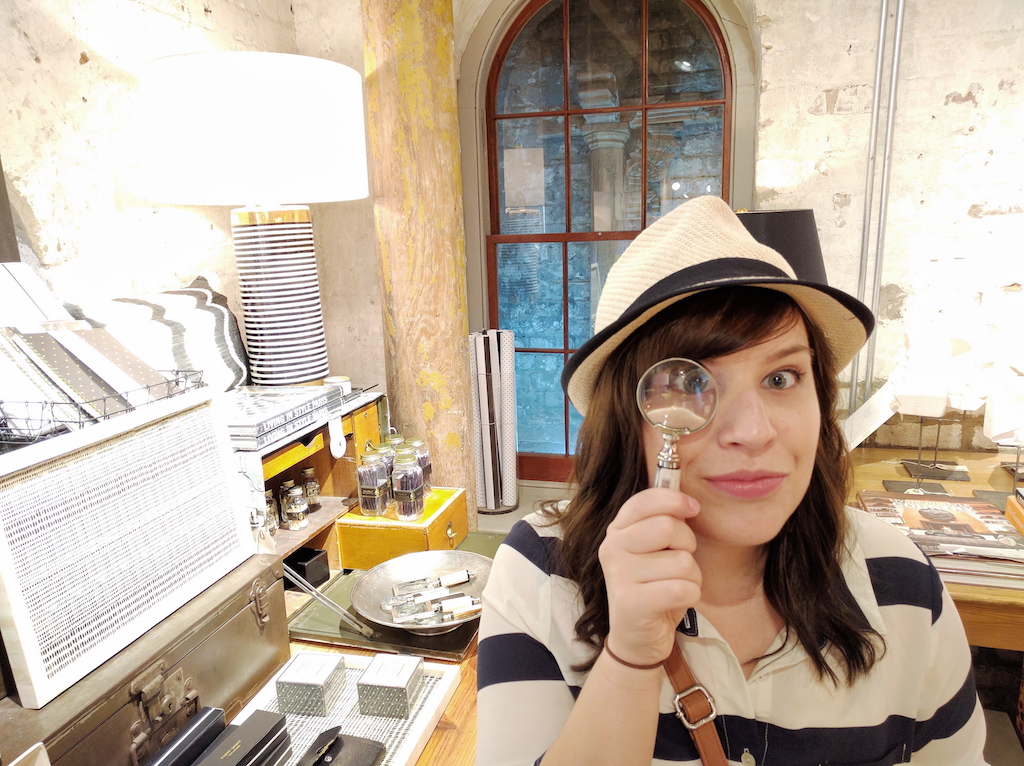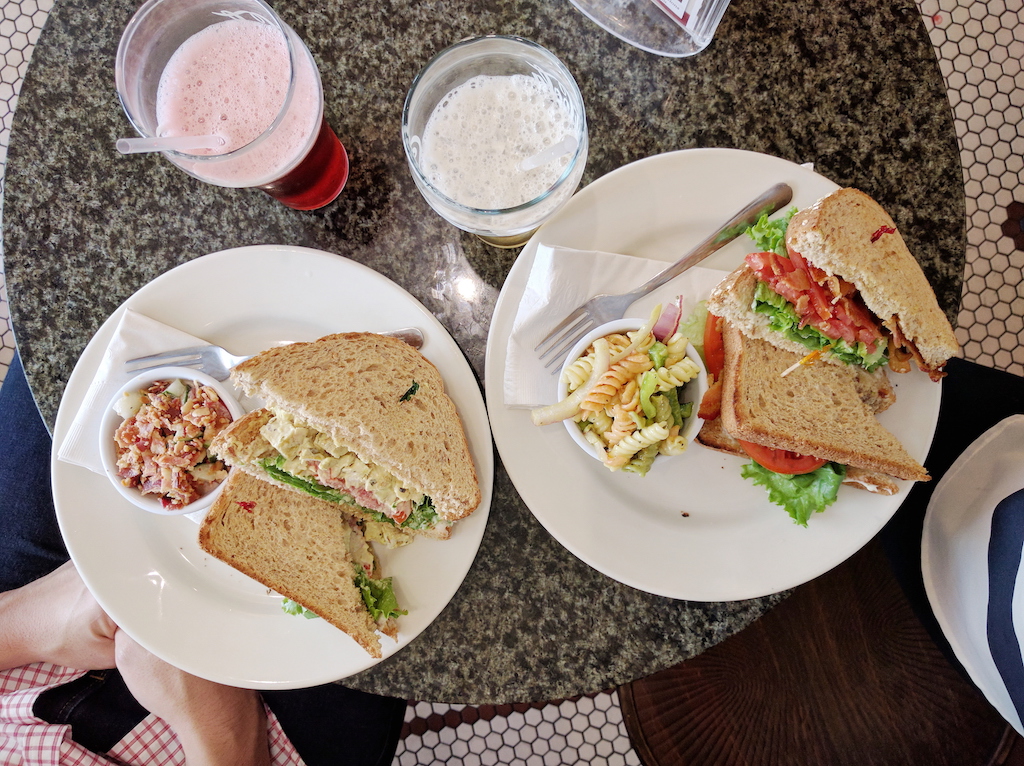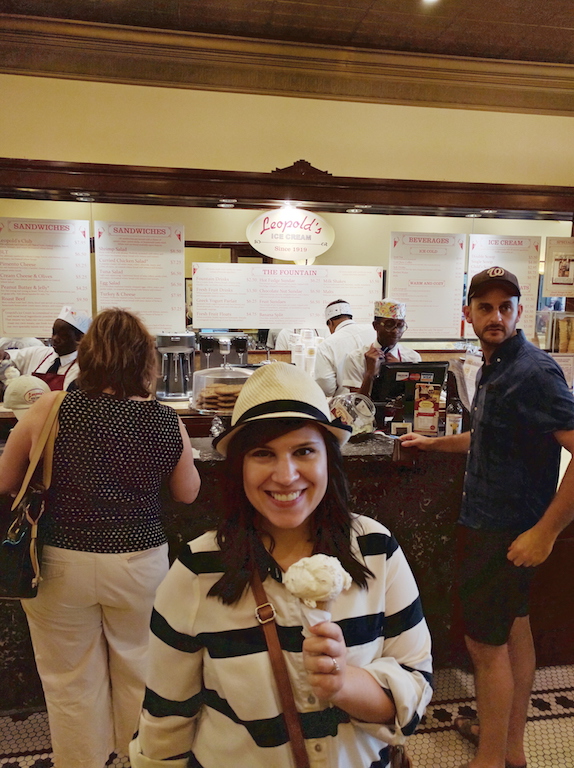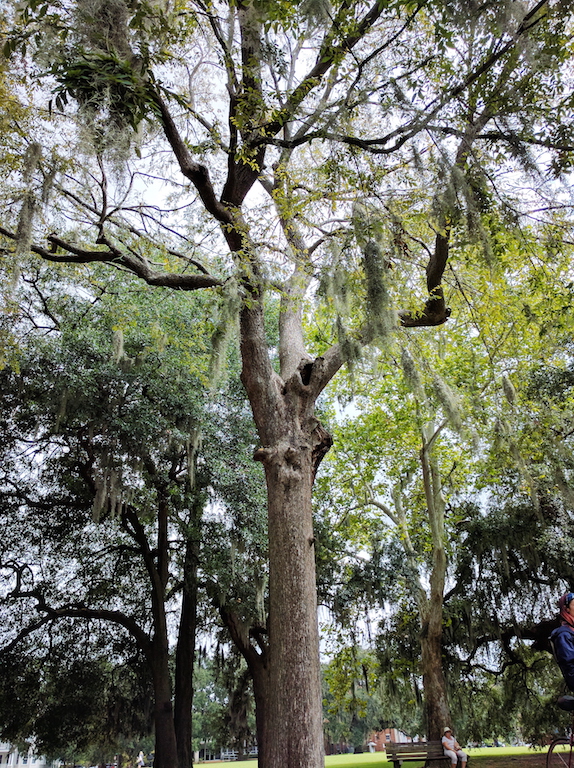 A huge thank you to my wonderful husband for treating me to such a great weekend and letting my restless spirit find a little peace. I think another trip to Savannah will make it onto our agenda again soon. There's just too much coffee we have yet to taste and more shops yet to explore!
Have you been to Savannah? What was your favorite part? Hoping to visit Savannah? Go!