Home Tour
Well this has been a long time coming! The way I figure, our house will never be as pristine as it is right now (now that we will have a puppy to muck it up in TWO DAYS), so I whipped out my camera and went to town.
Our style is very much modern, mid-century, minimal. We like subtle accents of wood and plant life amidst our greys and blues and greens. I shared this photo on Instagram a while ago, and it sums up the aesthetic we go for pretty well.
A little about our casa:
1,300 sq. ft.
Split level - kitchen, dining, living are downstairs, and bedrooms and bathrooms are up
3 bedrooms
2 bathrooms
No basement - just a crawlspace
Laundry located in the garage
2 car garage
Built in 1990
Below, keep an eye out for the links to each room's individual posts where you'll find some before and after photos (I'll be going back and updating the photos for those posts soon). Every inch of our home has been updated and the kitchen was completely gutted a few months ago. Without further ado, let me walk you through our home!
Entryway and Living Room
Our entryway was our most recent project. We picked up those black shoe containers at IKEA and added a stained piece of wood to the top to make it look more finished. It's been an awesome "dumping grounds" of sorts, for our random odds and ends. Our living room is obviously one of the main places we spend time. The coffee and side tables were DIY by Tom, and the rest of the room is pretty minimally decorated. It's bright, clean, and functional. Those floating built-ins have been wonderful for electronic storage. They still need tops to finish them off, and we're on the hunt for a different floor lamp behind the couch, but it's a great living area none the less.
Entryway post
Living room post (coming soon!)
Kitchen and Dining
The kitchen that came with this house was the one major vice for us. We knew we'd have to re-do the whole thing, and about a year later, the task was done... all by US (well, Tom). It's added so much to our lives and we absolutely love using our new kitchen. Hidden storage for brooms or mops is tough in this space, but we've managed to make things work. Also, being a shorty, my handy little step stool/ladder is a must :) We still have to add a backsplash, plus some other minor additions, but overall it's done and we adore it.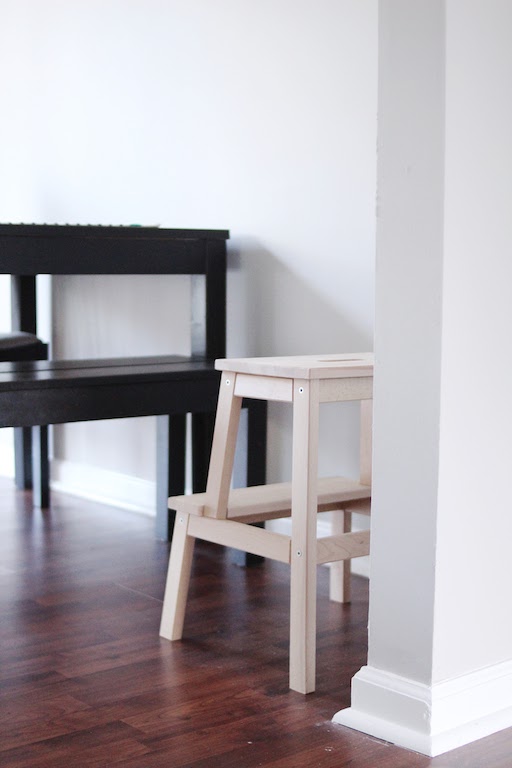 Hall and Landing
This wasn't a huge task, but it made such a difference to have the ceilings smoothed out and the walls brightened from dark tan to light grey.
Guest Room
Finding a good shade of green for a room can be tough, but we're pretty happy with this one. It's a calm, soft little retreat for our visitors, and every now and then I'll spend an afternoon working from the bed in here. Just for the change in scenery.
Guest Bathroom
The vanity and upper cabinet color matches the side tables in the guest room... just a little touch to bring the guest spaces together! It's a simple little bathroom but comfortable and functional.
Spare Room aka Wood Room
This room is sort of our floater room. We've had ideas or plans for it in the past, but nothing has really come to fruition. So we use it as an extra guest space. But we're also toying with creating a shared home office! We added the wood wall and feel it adds a neat feature to an otherwise small, boring little room. Maybe you'll see a post on this in the coming months!
Spare room post (coming soon!)
Laundry Room
You know, having the laundry in the garage really doesn't bother me. When our water heater died on us shortly after we moved in, Tom bought and installed a tankless one over in our crawlspace to save room in the garage so he could create this little corner for me. I had no qualms with doing this task in the garage, but I was wishing it felt more sanitary. Husband to the rescue! One of the photos shows how it's in its own little oasis away from the rest of the garage.
Also, I had made that piece of art some time ago, and could never find the right place for it. The words are from Shakespeare's Much Ado About Nothing (which holds a special place in our relationship) and I finally realized this spot was better than anywhere. Tom made me this little space, but I do all our laundry... so the words are a sweet reminder every time I do this monotonous task each week to remember how blessed I am to love someone so much.
Master Suite
This room is our escape, so the stark white mixed with hints of green life and grey create such a bright place to wake up each morning. We sip our coffee, talk, and get ready for the day together (my desk doubles as a makeup vanity). Our bathroom is the same shade of green as the guest room. We love our suite and will hopefully be updating our furniture in the coming year or so to styles that suit us a bit more.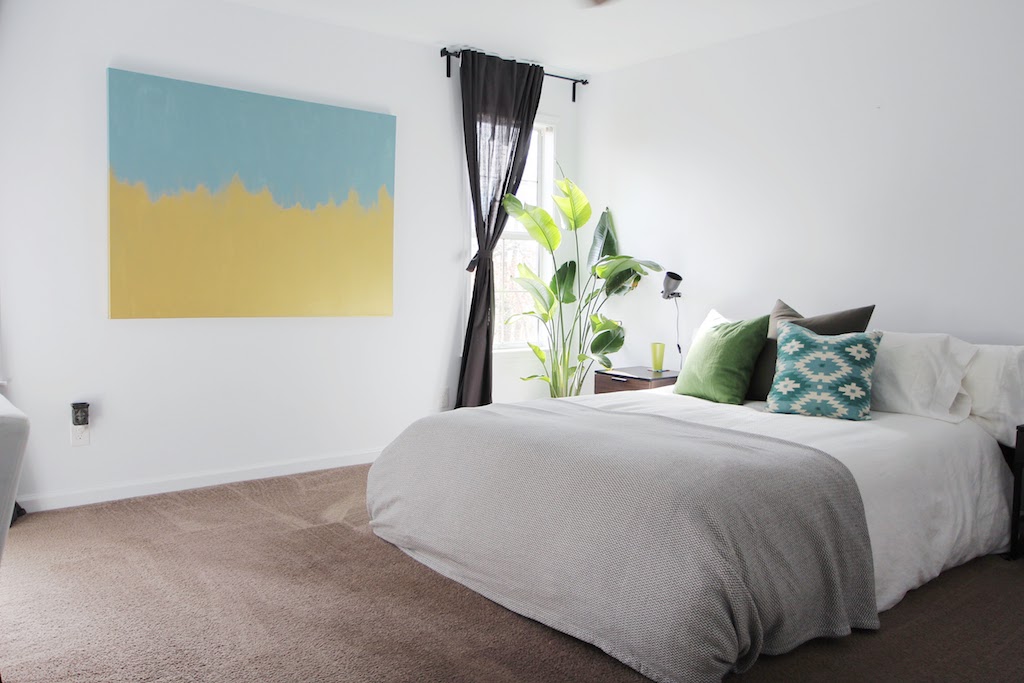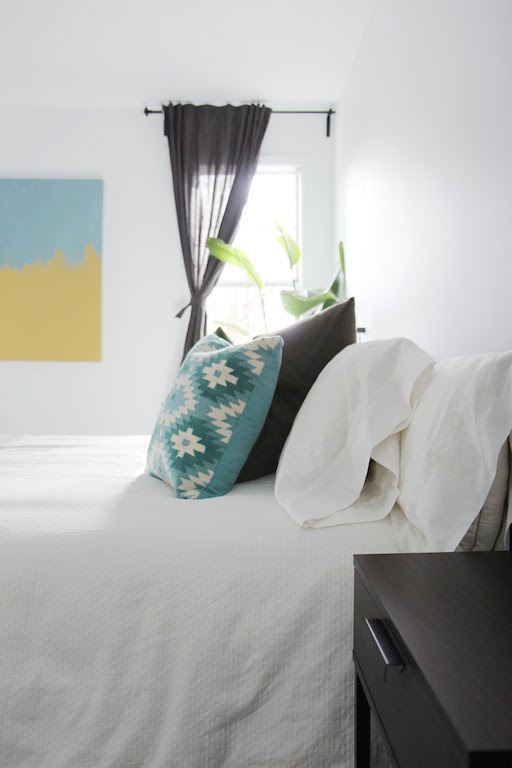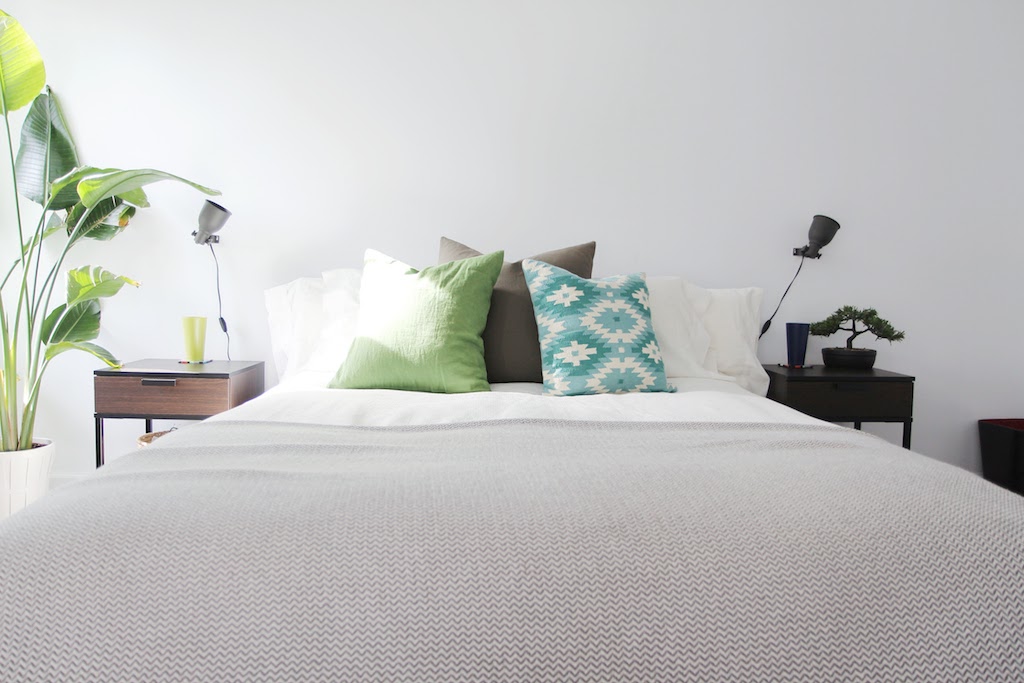 I hope you all enjoyed the tour! As you can see, we are very much minimalists and find joy in our home's clean, simple aesthetic. It'll be fun to see how this little space of ours might change in the coming months in terms of decor, or with the addition of a giant breed dog. We shall see!