Why You Should Be Visiting Avalon
I actually can't believe I haven't written this post sooner! Shortly after Tom and I moved to Georgia all the way from the tundra Midwestern plains of Wisconsin, Avalon opened its doors. At the time, we lived a short ten minute drive away, and even though we're now about twenty-thirty minutes away, it's still always worth it to spend our time there. It's been a place that amidst a much larger, bustling city and jammed up roads, I am able to find some relief from the culture shock of Southern, city living. It's a place I feel leisurely instead of rushed. It truly is its own little oasis - a mini-city-within-a-city - if you will. It may seem sappy to love visiting essentially a mall so stinking much, but let me explain what the hype is all about.
First, here is what Avalon is, for those who aren't aware:
In the heart of Alpharetta, this sustainably designed, 86-acre development with more than 500,000 square feet of retail, a 12-screen all premium theater, a full-service hotel (coming in Phase II), Class A office, single-family residences and luxury rental homes infuses resort-level hospitality throughout a walkable, seamlessly connected community of shopping, dining, entertainment, living and working. It's more than just another place to go, it's a place to be—a hub of local art and activity that delivers the luxury of the modern South.
This is a place where memories are made, new traditions emerge, families gather and community happens. Take a stroll down the Boulevard, make a wish at the fountain, catch a concert, play some lawn games with the family, and drink in the beauty of every season while you experience the ultimate in shopping, dining, and just enjoying. - Avalon's website
So here's why Avalon rocks....
1. Completely (and I mean completely) dog friendly
We have been visiting Avalon and strolling its walkways for years now. Just over three months ago, we brought our sweet pup home. The thing is, there are only a few options for dog friendly locations: dog parks, trails, and neighborhoods. My problem is that I wouldn't typically walk any of our area trails without my husband. I've heard of too many attacks or bizarre scenarios that keep me away. Many neighborhoods don't have sidewalks - leaving you on the street, and dog parks are... well... less than ideal in my opinion. I thoroughly appreciate having a beautiful, clean place to walk my dog, socialize him, and have plenty to look at and browse for myself. Dogs of any size are allowed in every.single.store. In fact, they're welcomed. With treats, water bowls, and lots of belly rubs from employees and patrons alike.
2. Plenty of parking
Ever get stuck driving around parking lots, just waiting for someone to leave? Not at Avalon. Maybe some of the busier Friday or Saturday nights can get a little packed, but I've almost never been stuck waiting for a spot to open up. Oh, did I mention it's also free? They have several parking garages, and somehow they even manage to keep those sparkling clean! However, if you don't feel like parking yourself, pull up to the front concierge and use their valet service. Bonus: the valets are some of our favorite people - they're all so nice!
3. Amazing food
This place has such diverse options, that no matter what you're in the mood for, you won't have to leave. Vietnamese, burgers, seafood, hotdogs, ice cream, fro-yo, sushi, deli sandwiches, wine and cheese, Mexican, fancy-sit down, pizza, cafes, and more. And honestly, if they don't have it on the main strip, Whole Foods is on the same property and I bet they do! Our personal favorites are CRU wine bar (get a flight!), Brine seafood, Antico pizza, and Barley Garden Kitchen (mmm beer). We still have plenty more to try!
4. Clean and safe
I don't think I've ever seen a piece of trash anywhere on the ground at Avalon. Not even gum. If you've ever seen Parks and Recreation, it's almost like the park in Eagleton where they pick up trash the moment it hits the ground. I'm really not exaggerating.
5. Great location
Directly off an exit of GA 400, Avalon is easy to reach from all directions. I think being up in the northern 'burbs of Atlanta, many of us can feel separated from the main city and feel like we miss out on some of the fun culture and entertainment unless we make the trek into Buckhead, Midtown, etc. But having Avalon and all its offerings makes me feel like we don't need to have FOMO.
6. So many stores
This seems like a given since Avalon is a mall, but these beautifully manicured boulevards and landscaped patios are surrounded by some of the best outdoor shopping this area has to offer. Pottery Barn, Francesca's, J.Crew, Athleta, Urban Outfitters, Crate and Barrel, Anthropologie, Lucky Brand, Orvis, and everything in-between. I know this has become such a cliche term, but there truly is something for everyone.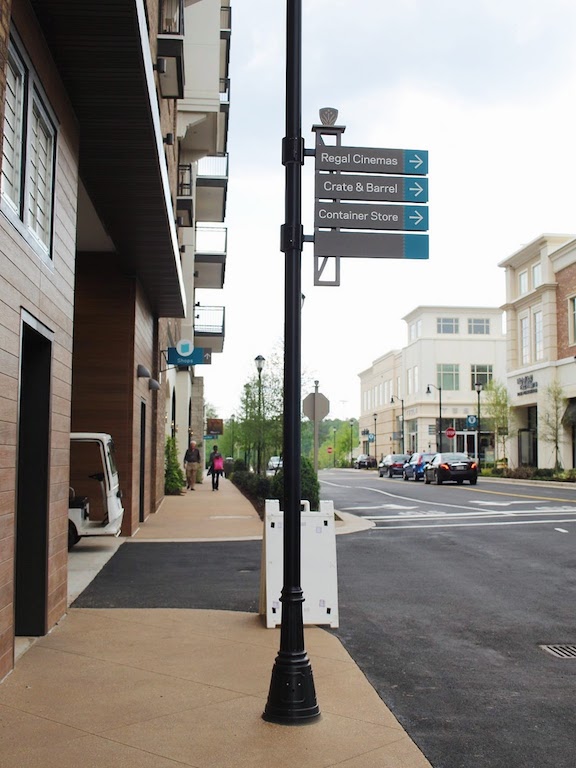 7. Super family friendly
The sidewalks are long and wide, leaving plenty of room for strollers and families with little ones who need running room. The main, turfed lawn behind the concierge is often a meeting ground for young families and offers a perfect space to get out some energy! For a place that gets a lot of foot traffic, I've never found it so crowded that it feels claustrophobic or difficult to navigate, and I think that would be seen a a bonus for many families as well.
8. Loads of entertainment
Live music, holiday celebrations, activities for the whole family, lawn yoga, and so much more! Check out their event calendar for information on exclusive parties and events, as well as free events for anyone and everyone to attend. Often times, too, they have goodie bags at the ready for the first patrons to show up for various celebrations.
9. Nicest staff!
Not only is every store and restaurant filled with the kindest, most engaging employees, but the Avalon staff (concierge, valet, security, etc..) are some of the sweetest people we've met. They recognize us and some know us by name, and are always ready with a dog treat or a "Hey! Good to see you guys back - hope you have a great time here today!" They are always upbeat and ready to answer any questions or just chit chat when they're not running around keeping things in order. Even our DOG recognizes them now! (Does this tell you how much time we spend at Avalon? haha)
10. Walk and drink
This may not be very interesting or surprising to some, but Avalon allows you to grab alcoholic drinks at any of the restaurants to-go. They'll send you and your drink on your merry way to wander the shops. I love this aspect! Obviously, you have to stay on the premises of the Avalon grounds, but it feels like a little luxury to be able to sip something yummy while doing a little window shopping.
Those are just a few of the ways Avalon has won me over, and I know if you visit, it'll win you over too. It's also such a perfect spot for happy hours after work, or for freelancers like me to work remotely when the weather is nice (which is most of the time). They have free wifi all throughout the grounds and of course a plethora of places to plant yourself with your laptop, grab a cool drink, and work somewhere bright and refreshing... with your pup in tow, too! It truly is its own community and they happily welcome new faces every day of the week. In fact, if you like it so much, you can live there. They have luxury town homes and apartments that contain added amenities on top of living in an already amenity filled development. So this is my unsponsored ode to one of my favorite places to spend time, work, play, eat, and shop. I truly just appreciate what Avalon offers so much, I felt compelled to write about my fondness of it today.
Visit Avalon's website to learn more
Have you made plans to visit Avalon yet? Let me know what you think and your favorite places to eat, drink, and shop!